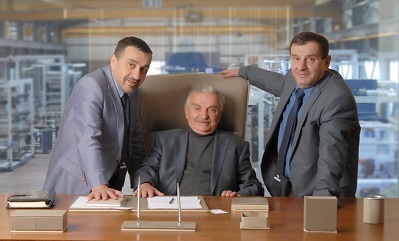 It has all begun in 1960, when Mr. Refik Bilgili, senior opened a small workshop in Balat – an ancient neighbourhood of Istanbul by the Byzantine city walls at the shore of the Golden Horn. There, he and his two sons, Metin and Murat were overhauling industrial machinery first. Soon, they started manufacturing their own flexographic printing machines for films used in the packaging industry. In order to meet the demands from this industry, they developed also lamination machines and slitter/rewinders; thus, completing the whole range required to produce flexible packaging.
Following the growth in the polypropylene woven sack sector in the 1980s, REMAK designed the legendary roll-to-roll fabric printing machine of which more than 300 have been installed worldwide since then. REMAK's design and technology are the most powerful arguments for customers' choice. The fact that machines built by REMAK are easily operated and solid, has contributed to the exceptional success story of the Company.
Steadily moving forward with the Third Generation in the Company management, REMAK has developed the gearless, full sleeve central impression printer – the latest technology in this field. REMAK is determined to satisfy customers' expectations with regard to the state-of-the-art technology and competent customer service.